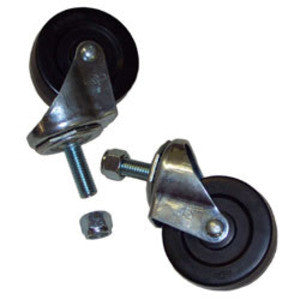 Caster Kit
Regular price $54.98 Sale
Specifications
2 black poly nylon casters
2 nickel plated nylon lock nuts
Description
This Caster Kit contains 2 casters and 2 lock nuts.

To replace damaged casters, loosen the lock nuts and remove casters from steel frame.
Insert the post of a new caster through the hole in the frame.
Twist the lock nut onto the threaded caster post above the steel frame.  Repeat for each caster.

Tighten; use a clamp or wrench to preventing the post from turning when securing nylon lock nut.
Make sure the lock nut is snug by pinching the caster post/base and caster housing/shoulder at the same time.

See a close up of this in our SUPPORT area of this website.
We use recycled packaging as much as possible. We appreciate our customers and value their patronage highly. Canadian customers are charged the Canadian Customs Duties and Taxes that are quoted by UPS for a specific order. These Fees are not available in the online freight cost estimate of your order. These Canadian costs are included in the Freight field of the Invoice-Receipt attached to the shipment box and emailed to you when we process your order prior to shipping.