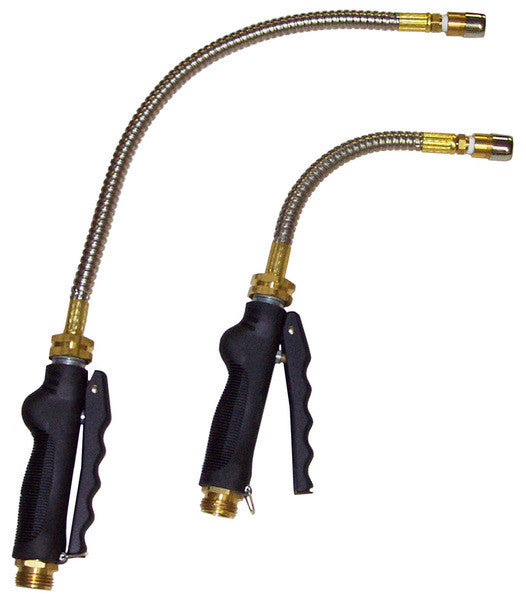 Flexwand
Regular price $59.17 Sale
Specifications
Flowvalve

Flex - bendable stainless steel wand
Your choice of 8" or 16" lengths
Brass

FGHT

swivel
Bubbler Tip standard
Tips are crimped onto each Flex
Tips are not interchangeable
Each Flex w/Tip is sold separately


Description
Flexwand makes it easy to control and direct the application of water. Each Flexwand comes with a Flowvalve and a Flex - the flexible stainless steel part and tip.
Choose the Length and Tip from the drop down menu.
Each tip is crimped permanently onto each Flex.  Tips are not interchangeable.
Additional Tips are purchased separately on the Flex of your choice. 
The 8" Flexwand bends 45° by hand for watering floral arrangements and sleeved plants without having to remove them from inside their display coolers.  Also popular for watering plants in pots.
The 16" Flexwand bends 180° by hand into a "shepherd's hook" to water down into outdoor hanging baskets or indoor hanging plants. Straighten to water into floor planters, Topsiders and bouquet buckets.
Flexwand reaches everything. It bends to make overhead watering easy. Just straighten to water foliage decor. No bending - no climbing.

Excellent for reaching into vases and floral arrangements without having to remove them from the cooler.