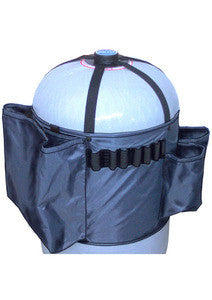 Workbag 10
Regular price $59.99 Sale
Specifications
Workbag #10 attaches to the tank and frame of all models
Heavy duty waterproof nylon/cotton canvas
2 side pockets for spray bottles
1 large Velcro closure side pocket for garbage or tools
8 elastic nylon loops for wands, duster, scissors, pruner etc.
1 Velcro closure secure pocket for keys, money, or small valuables
Easy to wash and dry
Description
The all purpose Workbag #10 fits all Tanks-A-Lot models. Use with any other Workbag to increase your tool and materials carrying capacity.

A large Velcro closure garbage pocket on one side can hold a small watering can or leaf debris.  Inside is a Velcro closing secure pocket for keys, money, or small valuables.

Two pockets for spray bottles are on the opposite side. The 8 elastic tool loops hold scissors, pruners, dusters, watering wands and applicators etc. making it easy to change wand ends or reach tools.

Snaps on and off; machine wash and dry.
Available in heavy duty waterproof nylon/cotton canvas.
We use recycled packaging as much as possible. We appreciate our customers and value their patronage highly. Canadian customers are charged the Canadian Customs Duties and Taxes that are quoted by UPS for a specific order. These Fees are not available in the online freight cost estimate of your order. These Canadian costs are included in the Freight field of the Invoice-Receipt attached to the shipment box and emailed to you when we process your order prior to shipping.